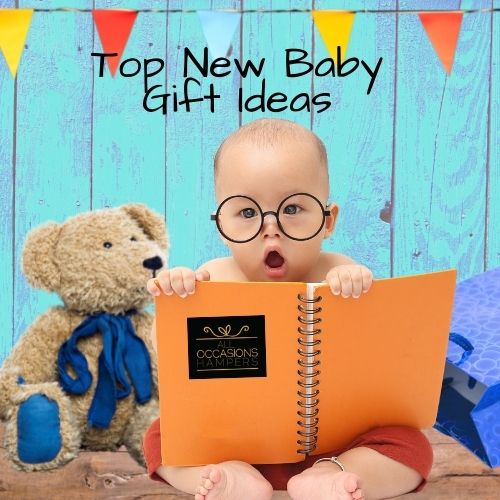 We all love a new addition to the World. So whether it's the announcement, the baby shower, birth or the Christening… There's usually a New Baby gift required. But what to give them? Well here are a few ideas we think are perfect!
Nappies, We know, We know! Seems silly but you have no idea how many nappies a child goes through so the parents will really appreciate this gift. Whether it's a packet in a hamper with other essentials, or a nappy cake, it's something they will defiantly use.
Teethers. Yes the age old necessity. They come in many designs and colours, maybe coordinate it with a few other bits in a hamper.
Toiletries. For example, talc, cotton buds, nappy cream, baby lotion, baby oil, sponges/face cloths, bath bubbles or baby shampoo. Again essentials they will absolutely use. We find it's fun to match colours of bottles or labels to a theme (like pink for a girl, blue for a boy, yellow or orange and greens for a baby they don't know the gender of). These can either be placed in a gift bag with coloured tissue or a gift basket.
Bath Time Toys. Bath time is the best, especially if you're a brand new human! So maybe think about getting a bath time book (ones with squeakers in the pages are the best), or tug boats. When they are older; bath time crayons are fun too (don't worry they wipe off the tiles with a cloth).
Baby Bottles or Soothers. They will loose so many of these, whether it's accidentally dropped out of a bag, or flung from the buggy. A few extra bottles or soothers will serve well. Also another ideal gift item is a soother keeper. It hooks onto the buggy handle and is perfect to keep spares in.
Teddy Bears and Blankets. Such a cute gift! Some places actually embroider the name of the child onto the blanket too! (www.alloccasionshampers.com can organise this for you).
Alternatively, give them a hamper with all these items in them. We can do that for you at All Occasions Hampers, just order online at www.alloccasionshampers.com or call Laura on +353 45 853718 for bespoke hampers.  We can deliver it to you or directly to your recipient.