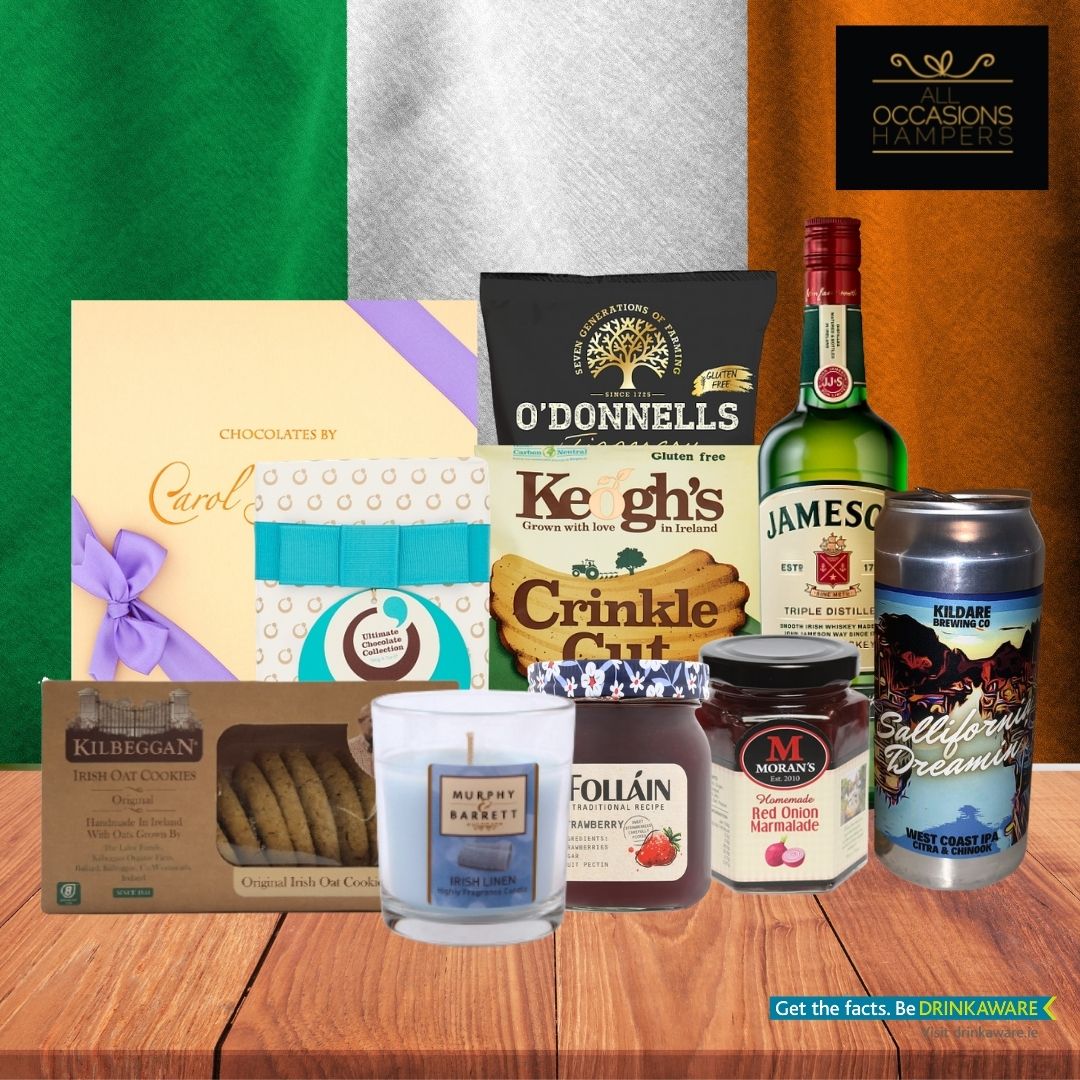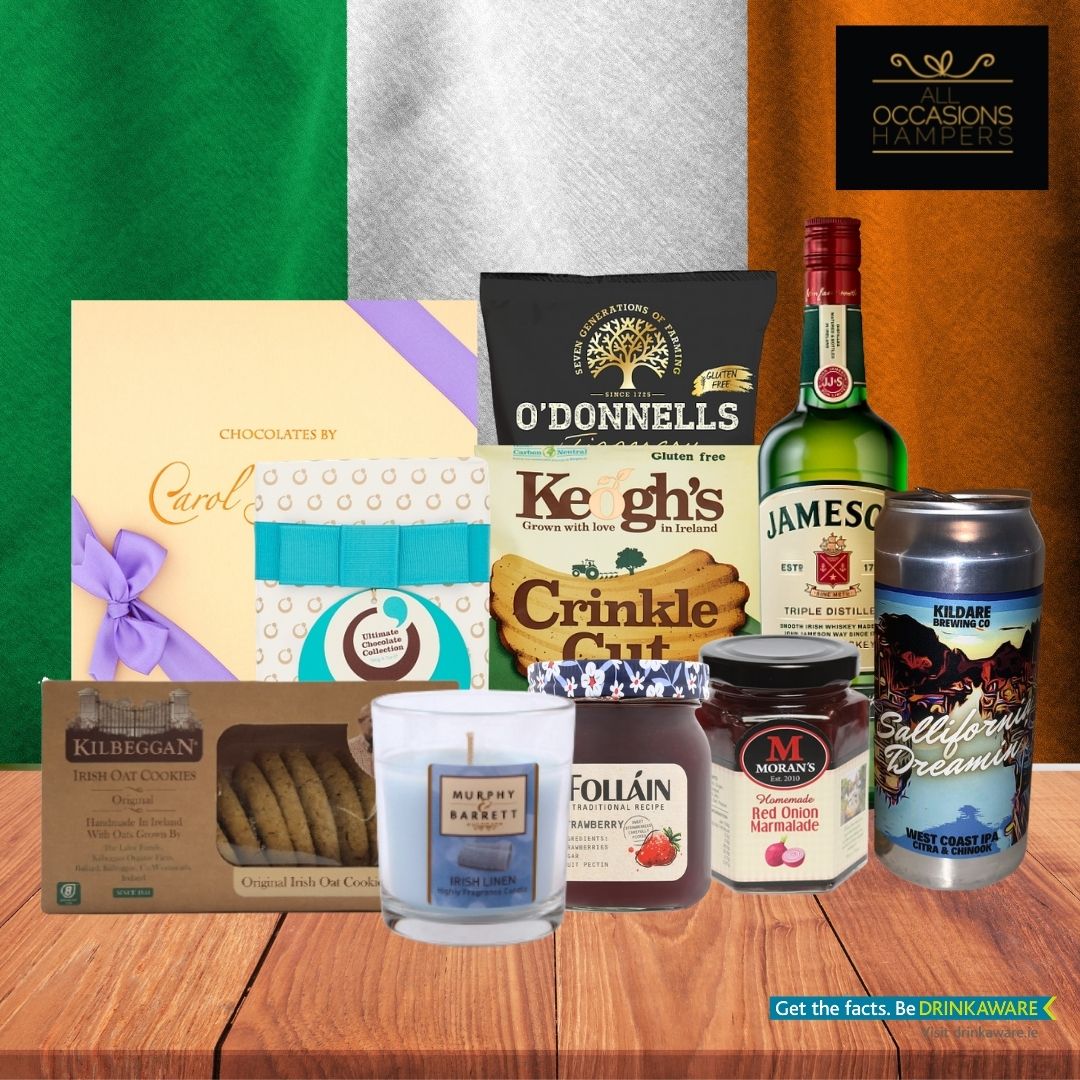 The best Irish products to give as gifts, are from all over the emerald isle. There's chocolates from Kildare and Dublin, to preserves from Cavan and Cork.
So here's a collection of what we think are the best – in no particular order:
Carol Kinsella Chocolates
Jameson Whiskey
Moran's Preserves and Relishes
Follain Jams
Lily O'Briens Chocolates
Kilbeggan Oat Cookies
Kildare Brewing range (especially the Sallifornia Dreamin West Coast IPA)
Murphy & Barrett Candles
Keoghs Crisps
O'Donnell's Crisps
Now we may be biased, because we are based in Kildare but some of the nicest products come from the lily white county. There's Lily O'Brien's Chocolate and The Kildare Brewing Company. Any sane person loves a nice box of chocolates so we enjoy Lily O'Brien's collections. Nice idea to give on their own or along with a bottle of wine. As for The Kildare Brewing Company, there's nothing like a nice selection of craft beers, an ideal gift for himself.
Murphy & Barrett Candles have a fantastic range of smells and sizes. Our particular favourite is the Atlantic Breeze or the Irish Linen. They also come in gift sets of three. Look out at Christmas as they do a nice festive trio coming up to the Christmas period.
Jameson Whiskey, is there anything more Irish? Whether it's with ginger ale and lime, or straight up on the rocks… there's something so pleasing about receiving a bottle of Irelands finest as a gift.
Moran's Preserves and Follain Jams are two of the nicest preserves out there. The jars are not only aesthetically appealing, but they taste great too. Moran's not only do some fantastic relishes, but they do some unusual jams such as their Guinness and Blackcurrant jam. Follain has some nice Christmas editions too like their Mulled Wine and Winter Berry Jam, or even their Spiced Apple Jelly… yummy!
From Dublin to Tipperary, from Keoghs to O'Donnell's Crisps. We couldn't decide which we liked more. Both have good points like mostly being Gluten Free… but the flavour range is wonderful. So if you are putting together a gift of treats, or heading to a friends for movie night, we would recommend either of these to bring as a gift to the host.
Kilbeggan Oat Cookies, so tasty we can't talk about them because our mouths are full from eating them! Nice idea to send to a relative abroad, along with the Barry's Tea Bags and Tayto Crisps. A real taste of home!
Carol Kinsella Chocolates, handmade chocolates that melts in the mouth – Did you know there's actually a Chocolate Café that you can visit? We'll meet you there! We'll be the ones covered in this amazing chocolate.
All of these products on their own are lovely gifts. Alternatively you could just give them all in a luxury hamper.
Check out this page for a selection of hampers for every occasion. : https://www.alloccasionshampers.com/product-category/hampers/
*These choices are our personal opinions, if you think we missed a product, or are a supplier that would like us to try your product, then email us on: info@alloccasionshamper.com